Touchless Facials Are the Answer to Spa Treatments in 2021
Could "Touchless" Facials Be the Answer to Spa Treatments in 2021?
As POPSUGAR editors, we independently select and write about stuff we love and think you'll like too. POPSUGAR has affiliate and advertising partnerships so we get revenue from sharing this content and from your purchase.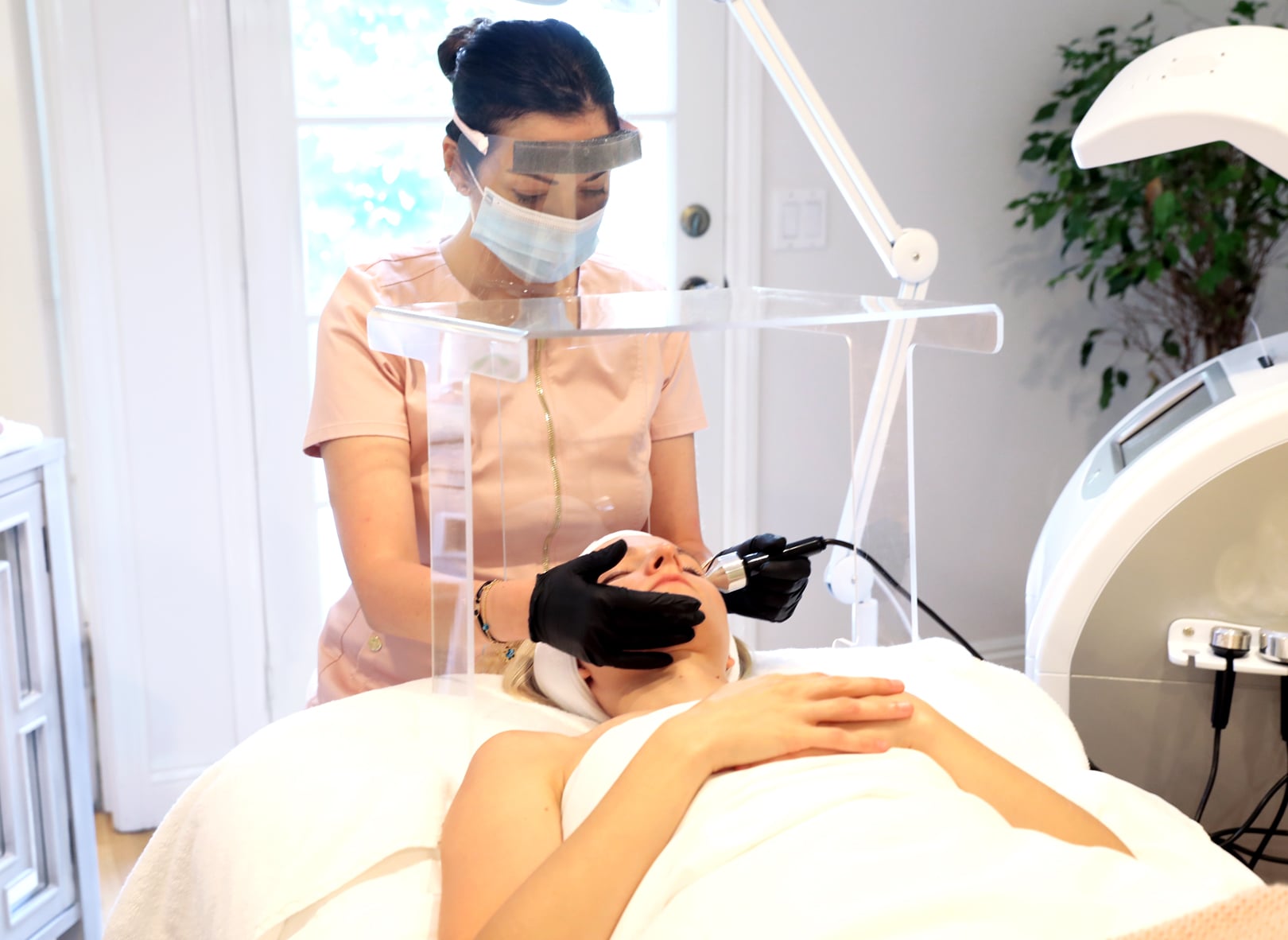 It's hard to imagine many beauty treatments as a truly "touchless" experience, but this is especially true with facials, where the whole point is to have an aesthetician massage, rub, and press various skin-care products onto your skin. But could that be where the beauty industry is going in 2021?
Even though a COVID-19 vaccine has been approved by the FDA and is currently being administered, experts predict it's going to be a little while before things fully return to business as usual. With that in mind, the beauty world is still looking for new ways to innovate and make close-contact services, like manicures, haircuts, and facials, safer in the new year. At celebrity facialist Georgia Louise's New York City-based spa that involves an entirely new treatment called the "Georgia Louise Touchless Bespoke Facial." Yes, you read that right: touchless.
When it comes to spa and skin-care services, it seems you'll be seeing more of this emerging category in 2021. According to Mindbody's COVID Edition: 2021 Wellness Trend Predictions, 59 percent of Americans say they're not interested in high-touch services, while 31 percent say they're willing to try a new no-touch treatment to relax during the pandemic.
"I think a lot of people have worry and anxiety about coming in to be touched again," Louise told POPSUGAR. "Naturally, the idea of a facial could be quite off-putting for many people." Louise's spas still offer traditional facials for those who want them — complete with the required PPE, temperature checks, and so on — but she created the touchless option for anyone on the fence. It eliminates as much unnecessary close-contact interaction as possible but still delivers great skin-care results. During a time where stress-levels are as high as ever, she wanted her clients to be able to indulge in some me-time without feeling nervous about their health.
If you're wondering how a facial might work sans any touching, it's actually pretty simple: this service utilises the latest skin-care tools and technology instead. "We have silicone gloves we use to clean the skin, and then it goes into using more tools, like a probe, which could be for radio frequency, microcurrent, and for galvanic current, and then LED," said Louise. As for applying serums and face masks where you would think hands are needed, they use her Cryo Facial Freeze Tools ($125) or mask brushes. In Louise's words, she put together the best tools that she has at her disposal and "loaded it into this facial."
There are two things that come to mind when you think of a facial: the first thing is results, but the second is feeling.
The demand for touchless beauty treatments extends past salon walls. Over the last year, many companies have created their own touch-free devices for at-home use. Droplette ($299), for example, is a new NASA-backed, physics-powered device that transforms skin-care ingredients into a micro-mist for hands-free application. LA-based celebrity aesthetician Shani Darden just released a Facial Sculpting Wand ($399), which is supposed to help recreate her 10-minute in-salon local vibration treatment at home without the need to use your hands. Then, there's also the OPTE Presicions System ($600), an innovative beauty device that scans and detects hyperpigmentation on the skin like a mini handheld printer and corrects the discoloration.
But despite touchless treatments being on the rise now, Louise doesn't believe the trend will continue forever — at least not entirely. "Ultimately, what we'll probably find is that once the vaccine is in and the numbers are down again, people will be rushing in to get the traditional touch facial," said Louise. "Because let's be honest, there are two things that come to mind when you think of a facial. The first thing is results — and you get results from both facials — but the second is feeling, and the holistic and the healing element is totally different with touch."
Image Source: Courtesy of Georgia Louise